ExpressVPN Review 2016
ExpressVPN always secures a safe spot as one of the best VPN providers. With its specialisation on simplicity and security, as well as its numerous servers, impressive speeds, and neat interfaces for all its software and apps, it has consistently been a top VPN provider in an increasingly crowded market.
This leading VPN provider is an amazing option, especially that it provides an extensive range of services that is fit for the mainstream VPN user. It showcases an outstanding performance, keeps no usage logs, and offers an impressive, simple Windows and OSX client. Also, it stands on its claim to be the fastest VPN on Earth as it runs servers in 78 countries to ensure great speeds for its users.
Pricing and Plans
ExpressVPN offers three different packages with the same service. However, these packages vary in terms of the length of period. If you avail of long-term packages, you can get bigger discounts. The most popular package is the one-year package, which costs about $8.32 per month.
Despite being a little bit more expensive compared to its competitors, the VPN offers a 30-day money back guarantee – allowing you to try the service itself without the fear of losing your money for an investment that's not going to serve your needs. Also, it offers localised payment options to expedite the process of every purchase, making it convenient and accessible for users.
Features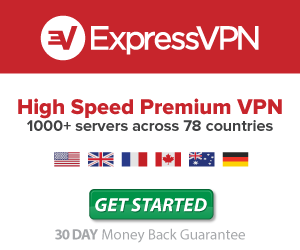 In terms of features, ExpressVPN contains all the features that are present in VPN providers. It offers three main security protocols and numerous servers, specifically in 78 countries.
However, what makes it outstanding is its ability to make the software easy to use and understand. This streamlining is very apparent from the VPN's website to its mobile applications. Aside from that, you can also setup this VPN on multiple websites without any hassle, although you're limited to two simultaneous connections – one computer and one tablet or smartphone.
Security and Privacy
It also has an impressive security and privacy system. It utilises a 256-bit security and comes with OpenVPN as the standard protocol. If you want to experience faster speeds – a little bit higher than the already excellent bandwidth – you can also use L2TP or PPTP.
This fast and secure VPN does not keep usage logs. It also does not keep any logs that might allow someone to match an IP and timestamp back to a user. Since it only works on the basis of shared IPs, a single IP does not track back to an individual user.
As a company based in British Virgin Islands, ExpressVPN does not fall under the laws of US Data Retention or EU DRD. Moreover, for privacy-conscious individuals, it accepts Bitcoin and requires only an email address to sign up.
The website
The platform's website is designed to make sure that everything will come easy for its users and readers. The site's layout is very clean, making all the features very defined and comprehensive.
Support
ExpressVPN offers an outstanding, round-the-clock customer support. The team is very responsive in such a way that they would immediately act on your concerns. Indeed, its customer support is considered as one of the most responsive support services among all VPNs.
The website provides all the resources to guide you in setting up your software. Also, the support portal keeps records of your previous inquiries in order to facilitate the resolution of your problems in the future.
Performance
ExpressVPN's claim as the fastest VPN on Earth stands true to its word. The platform performs good in speed, DNS, and IP tests. Also, the provider's "stealth" servers located in Hong Kong help in maintaining fast speeds in locations such as China.
It's a very smart choice for VPN. It has a big network, fast speeds, outstanding security and anonymity, and a wide range of features. If money is not an issue, experience the "high speed, ultras secure and easy-to-use" VPN with ExpressVPN.